Current Gigs

Latin~a~go~go Band

May 22,2015 3:30-5pm
Organ Pavillion Boaboa Park,
San Diego, San Diego City College Graution

"WE WILL MAKE YOU GO~GO!"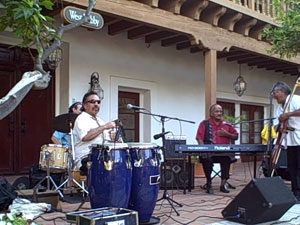 ****************************************************
Past Gigs
Oct 26, Sunday 1:30-3:30pm
@ "DIA DE LOS DE MUERTOS" OLD MISSION SAN LUIS REY
4050 Mission Ave. Oceanside CA. 92057
10/5/13 sat. @ Pardo for Scientology church
9/16 gig mon @ pumua casion 4-8pm
San Diego OLD TOWN CINO DE MAYO FESTIAVL ,
MAY 4, SAT. 5:30-6:45pm
on "CORONA STAGE"
FREE FREE EVENT, for the Whole FAMILY,
"WE WILL MAKE YOU GO~GO" and Latin~a~go~go
May 24,Fri.
@ ORGAN PAVILION BALBOA PARK
3:30-4:35pm , San Diego City College Graduation
May 5 4:00-5:00pm
Cinco Del Mayo
OLD TOWN FEST.
Latin~a~GO~GO Playing On CORONA STAGE,
May 18, Fri. 3:25- 4:35pm
San Diego City Collage Graduation
@ Organ Paillion
June 1, 2012 Friday,6pm-8pm
@ Grossmont Center
Latin~a~go~go playing
bring the whole Family! and Rock~a~go~go
July 13 Fri ."Trolley Barn Park Concert" 6-8pm
@ Park 1900 block Adam's Ave.,
San Diego,92116,University Heights
July 29 Sunday 10am-4pm
"El Camino vs Ranchero's Car's Fest"
Chevy vs Ford's fund raiser for the "Warrior Foundation" War Vet's
@ AutoZone 7791 El Cajon Blvd. La Mesa CA.